When your 3D file is uploaded, the following window appears. It gives you a choice of the visibility for your object.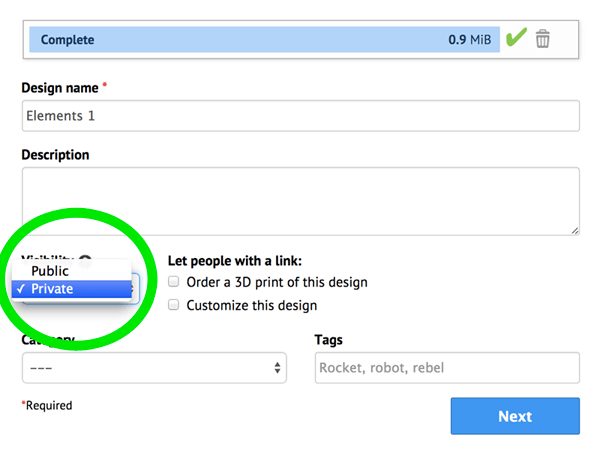 The visibility options are displayed on the left part of the screen. They include:
Private
If you choose 'Private', you maintain complete confidentiality of your 3D file. It is then possible to share a link to your model, to your discression. Customers with a direct link to your model will then be able to personalize your object within the viewer. Customer personalization options are also at your discretion.
Public
In you choose 'Public' after you upload your 3D file, you authorize Sculpteo to publically display the 3D model in our online marketplace. Within the marketplace, customers have the ability to search for, personalize and print your model. Customer personalization options are again at the discretion of you, the designer.
Shops
If you would like to generate revenue from your 3D designs you must open a design boutique associated with your Sculpteo account. A shop opened with Sculpteo is considered under a non exclusive license which authorizes Sculpteo to sell in your name.
Modification
You are able to change the visibility of your model at any moment by changing the visibility option or by deleting it from our catalog.