When your 3D file is uploaded, the following window appears. It gives you a choice of the visibility for your object.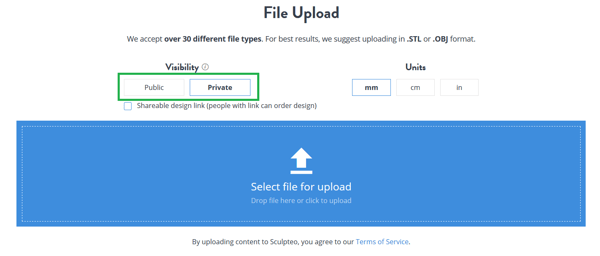 The visibility options are displayed on the left part of the screen . They include:
Public
In you choose 'Public' after you upload your 3D file, you authorize Sculpteo to publically display the 3D model in our online marketplace (only is you have an existing store). Within the marketplace, customers have the ability to search for, personalize and print your model. Customer personalization options are again at the discretion of you, the designer.
Private
If you choose 'Private', your upload will maintain complete confidentiality and only visible in your account.


Shareable design link (people with link can order design)
You can keep your object private but activate the shareable link, this means that someone with the link to your object can order the object.
Due to configuration and setting for vectoriel files, these uploads are registered as Private and cannot be shared.