When a printable file is uploaded to our site, it is automatically analyzed and corrected by our repair algorithms. There are few problems which our algorithms are not able to repair. That being said our reparations may drastically alter your model, depending on the severity of your file's errors. However when a file is repaired, we also offer different algorithmic reparations, giving you a choice of how your file will be repaired.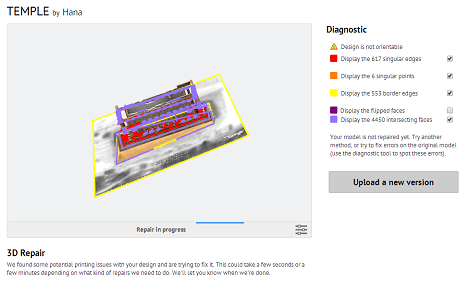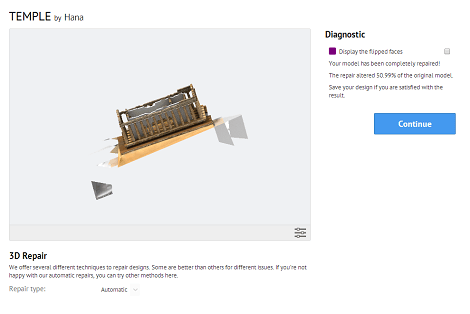 Diagnose your 3D file
You are able to access the 3D file diagnostics in the top right portion of your screen. The diagnostic will point out the errors in your 3D file and will show you exactly where those problems arise in the 3D viewer. The file then updates according to the repair options you choose. Choosing "None" in the drop-down menu will show your original file and you will be able to visualize each of the errors detected by our software.
The diagnostic check will show the following errors. To know more, you can check our paragraph explaining how to correct 3D file manually for 3D printing.
Edge Stops (surfaces that do not contribute to the border of a volume)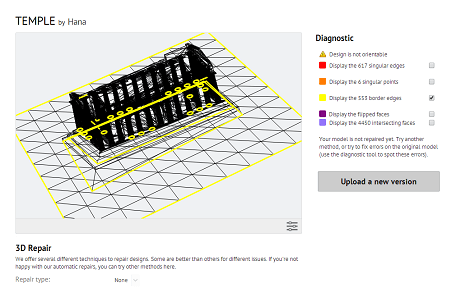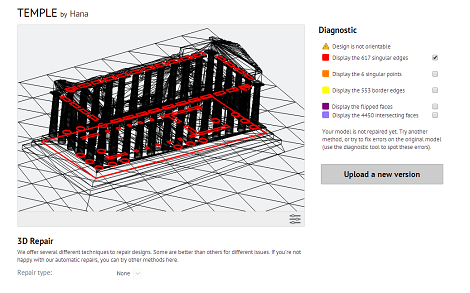 Singular sides and points (non-manifold)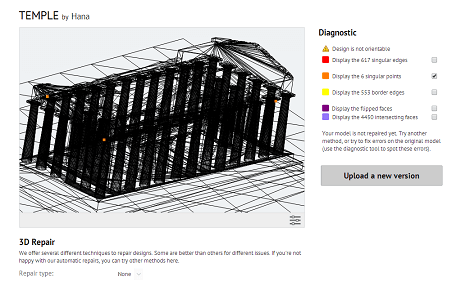 Intersecting Faces (auto-intersections)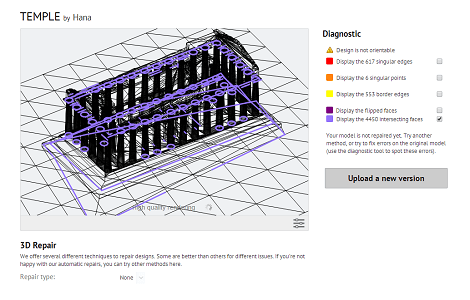 Inverted Faces (orientation)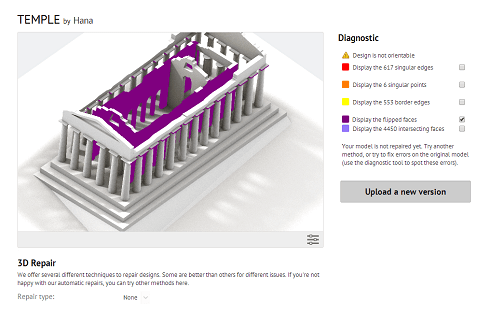 Repair your 3D file
If our auto repair function alters your 3D file significantly or does not result in a fully corrected version, you will be redirected to our repair page. If you are not satisfied with the repairs, you can change your 3D file and upload it again or try other methods of correction directly on our website. To do this, simply select one of the remedies proposed in this drop below the 3D viewer menu and choose the one that suits you best. Once the repair is chosen, you can click "Continue".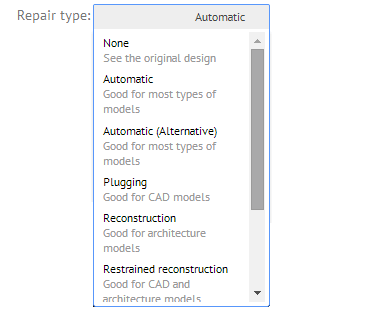 We offer the following repair functions:
Automatic : Optimized for most file types
Plugging : Good for CAD models
Reconstruction : Good for architecture models
Restrained reconstruction : Good for CAD and architecture models
Visible reconstruction : Good for miniatures or small non-mechanical objects"
Hybrid Reconstruction : Good for models made of multiple parts