Pricing is based on a series of factors, including: volume of the object, the size, the amount of raw material used, the labor (mainly post printing) and multiple other factors. These are the major factors that can affect the price.
The cost of your 3D print is automatically calculated the moment you upload your 3D file to our site. The calculations are interactive and will change as you modify your personalized object and 3D printing options (if no 3D file is provided, a precise price quote cannot be established).
In this page, learn everything about:
How dimensions impact your 3D Printing Price
Production modes: Choose between fast, standard or slow production to control your 3D Printing Cost
How your 3D printing material influences your 3D Printing Price
How your 3D printing finish influences your 3D Printing Cost
How to reduce your 3D Printing Price
How your 3D Printing Dimensions Affect your 3D Printing Price

How much space does your 3D print take?
The most important factor to calculate the cost of your 3D printing is the size of your object, and how much space it will take in the machine. Voluminous objects are more costly than compact objects because of the area and volume that is taken up in the Printing block.
Make sure you respect the maximum 3D printing size.
The larger the object that you wish to print means, that the object will need to be place in a printing block with a greater volume and machine. This also means that the printing cycles are longer which will in turn will have an affect the cost of printing.

When you upload a design on our website, you have to check if the size respects the maximum size of the machine's tray. Each machine has its own size limitations, depending on the material you use. The maximum size also depends on the finishing you choose.
To check the maximum size limitation of each material, you can visit our Material Page.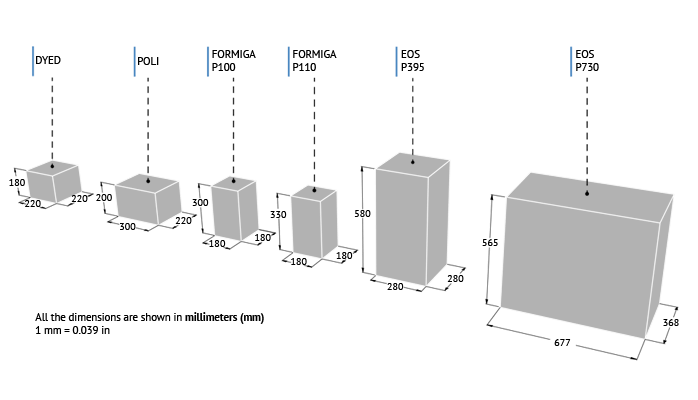 3 Production Modes to control your 3D Printing Cost

At Sculpteo, we think that each object meets a specific need. Prototyping or tooling are often a more urgent need than miniatures, for example. That's why we created 3 different production modes: Standard, Express and Economic. These production modes have an impact on your 3D printing cost: the slower the production, the lower the price will be. Regardless of the production mode you choose, as soon as you upload your file on Sculpteo, you can see the shipping date of your package.


Standard Mode
Standard Mode is the default production mode for your object. It signifies that your object will be produced according to the number of orders we have at the time you confirm your order. The delay is linked to the material you choose. You can find the delay for each material on the adequate material page .
Express Mode
We designed the Express Mode to meet the demand of our clients in the shortest delay. The 3D printing cost for an Express Mode order is higher because we give your 3D print high priority, and arrange our planning accordingly. This higher price is a guarantee that your order will be shipped on the announced date.
This mode is only available for non-polished white plastic standard resolution. It is not available for other finishes or other materials. The object must be smaller than 290 mm x290 mm x 290 mm.
Economic Mode
As we work with a space optimization system to ensure the best cost, we offer the opportunity for clients for whom a low price is more important than a fast delivery to decide their order will be produced whenever there is space in the machine. This option involves a reduction of up to 30% of the original 3D printing price in the standard printing mode, and a production time usually on average around 10 days.
This mode is available for white plastic with or without finishes. It is not available for other materials.
The Economic Mode is available only for objects over 10€ or $10.
Learn more about the production modes.
We have introduced a minimum price of 30$/€/£ for the production of a small object, to remove this handling fee, you can increase the quantity of parts in your order.
How your 3D Printing Material Affect the 3D Printing Price

Type of Material
When you have uploaded your design on Sculpteo, you can modify in real-time its size and material. Depending on the material you choose, the price can change from up to 100%! As plastic material is the most requested material, it is the least expensive.
Amount of Material
The amount of raw material used for your 3D printing affects the final price. To be sure that your object will be properly printed, our online checking tools are available to help you find the best options for your 3D print.
For plastic materials 3D printed with the SLS technology, the amount of powder used can modify the 3D printing cost significantly. To reduce the price of your 3D printing object, you can hollow your model: less powder inside your object means less raw material used, and a smaller 3D printing cost. To learn more about the hollowing process, check our hollowing tool page.
How our Finishes Affect the 3D Printing Cost
At Sculpteo, we offer 5 main post processes to your 3D printed object that can add up the 3D printing price. Because a post process treatment requires human action, the 3D printing cost is affected.
But remember that even if you choose a raw finish, we still guarantee the best 3D printing quality.
Polishing
The polishing process is done by a technician to give your object a better look by reducing the friction. For Plastic and Alumide material, we use SLS technology (Selective Laser Sintering) to create your parts. Due to the raw powder material, a small amount of powder particles don't melt during the laser passes and create a rough and porous surface.
At Sculpteo, the technique used to polish your 3D printed parts involves using small stones in a rotating/vibrating cauldron - as the stones brush up against the object, small imperfections in the surface are smoothed.
Learn more about the polishing process.



Varnishing
Our varnishing finish gives your part a shiny and better surface. It also pops the colors and gives your 3D printed object a great aspect.
To varnish an object, we dunk it in a cyanoacrylate bath, which further solidifies the object and brings out the colors a bit more. Your object is then coated with a varnish which makes it more resistant to humidity and chocs, and gives it a shiny appearance.
Available for Multicolor 3D printing and painted white plastic. To varnish any other plastic materials, such as white plastic with no painting on, black plastic or grey plastic, please contact us.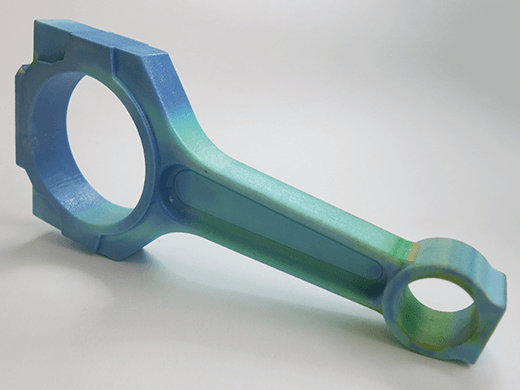 Smoothing Beautifier
Exclusively at Sculpteo, you can give your 3D printed object an end-use aspect with our Smoothing Beautifier treatment. Our technicians are able to bring a level of smoothing to give you the best quality for your 3D printed parts.
Thanks to a physicochemical reaction, we can approach the surface look of injection molded parts. It is an exclusive patent-pending process to smooth laser-sintered plastics.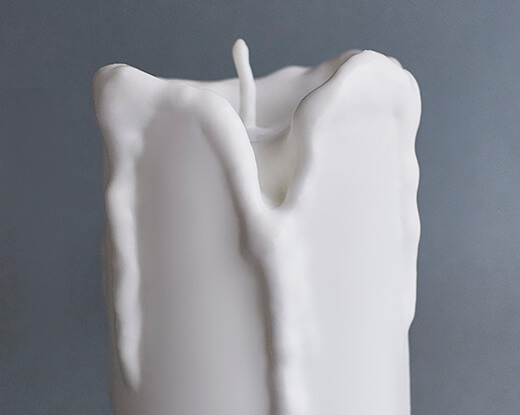 Dyeing
To obtain the best finish aspect for your 3D printed objects, we offer a dyeing option available in many colors to give your 3D printed plastic parts a better look.
Dyeing 3D printed plastic colors it very deeply. This guarantees vibrant colors but also makes it possible to avoid the phenomenon of peeling or scratching which can occur with paintwork. The lack of excess thickness prevents loss of detail, thus conforming most closely to your original design. Dyeing can reach all surfaces of the part, including the most inaccessible recesses, resulting in a very uniform finish.
This process is suitable for our white plastic parts as well as for our alumide parts.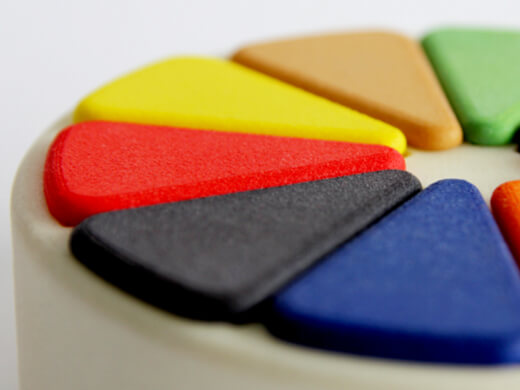 Painting
As a complementary option, it is possible to paint your 3D printed object. Our technicians use very durable spray paint to give your object a finished aspect.
Paint is very durable and retains the same shade without losing intensity. Since we use a cellulose paint, there is no risk once it dries of staining clothing or your skin. It is therefore suitable for all uses.

Painting is available in matte or glossy finish.
Our painting option is more expensive than our dyeing finish, as it takes more time and human work.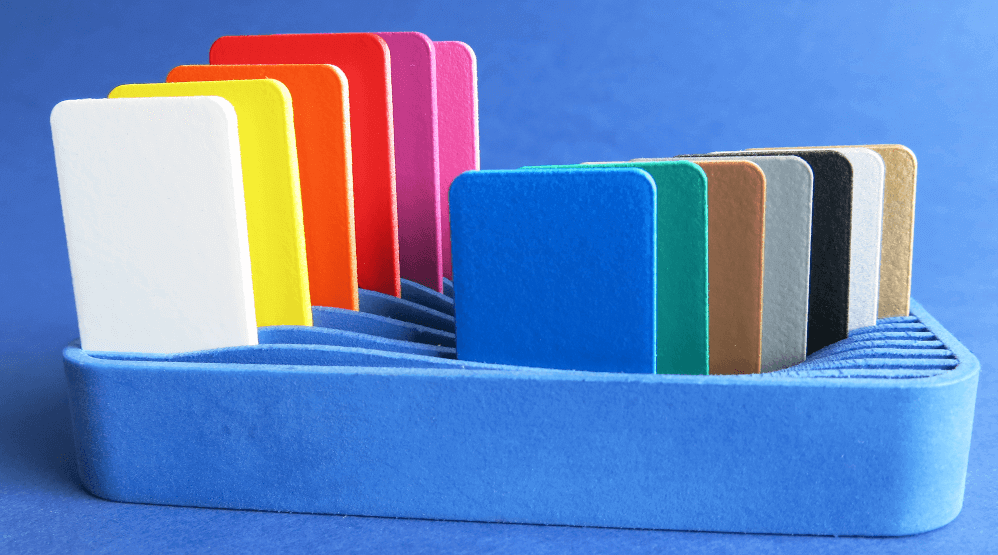 Reduce your 3D Printing Price

To reduce your 3D printing price, discover our awesome online tools and algorithms on the tool page.
Discover how to reduce the 3D printing cost with 10 easy tips.